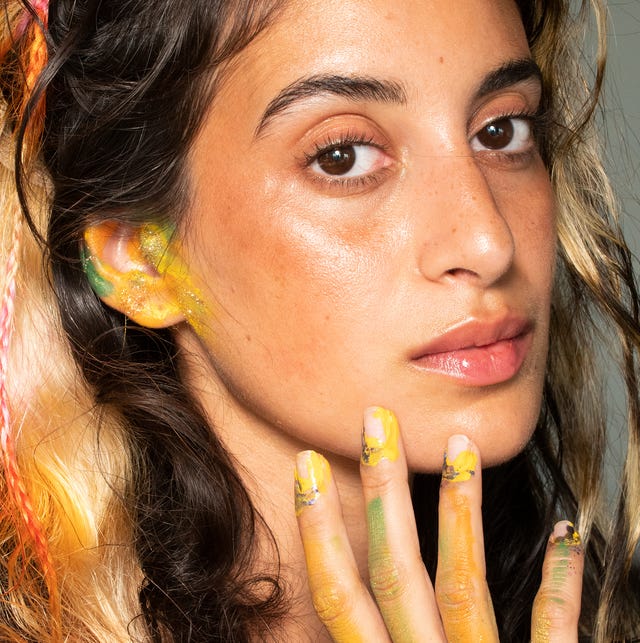 Getty Images
As we leave an era of virtual presentations behind us, it's time to look forward to Spring/Summer 2022. NYFW is back, people and so is makeup! We've sorely missed the hustle and bustle of back stage, the newest innovations from our favorite designers, and most importantly, the beauty looks. This season, designers are leaning into the joy of being outside again. From pops of color smudged across eyelids to illuminated skin and rosy cheeks, the runways are alive with makeup looks from the best brands and MUAs in the business. Ahead, the biggest makeup trends from the Spring/Summer 2022 runways that will get you back in your facebeat groove.
Collina Strada
For Collina Strada's garden show, makeup artist Allie Smith wanted to recreate the sun-kissed glow that only comes from being outside. Smith worked with M.A.C to illuminate the skin all over, adding pops of glitter and color to the high points of the ears and hands. "Inspired by a fun day outside in a fairy garden," Smith says. "Humid, sunny skin and dazzling colours and textures adorning the the ears and hands."
Monse
Impeccable skin was the star of Monse's makeup look, with Stila Global Beauty Director Charlie Riddle creating a perfect canvas for rosy cheeks, graphic liner, and bold eyebrows.
Prabal Gurung
Glowing skin was also spotted on the runway at Prabal Gurung. Key makeup artist Sil Bruinsma referenced "bronzed, sultry skin and neon highlights," dabbing shades of lime green, cyan, and magenta on the inner and outer corners of the eyelids.
Moschino
Jeremy Scott tapped NYFW beauty legend Kabuki to create M.A.C Cosmetics looks on the likes of Gigi Hadid, Precious Lee, and Irina Shayk as they modeled pastel confections on the runway. "The collection is a witty juxtaposition of very 'ladylike' clothes made of nursery type elements," Kabuki says. "I was looking to create a balance of innocence and sophistication with this makeup, a 'debutant' in other words."
Advertisement – Continue Reading Below
This content is created and maintained by a third party, and imported onto this page to help users provide their email addresses. You may be able to find more information about this and similar content at piano.io